HPC-approach to Ionospheric Situational Awareness
HPC-approach to Ionospheric Situational Awareness (HISSA), is a consortium between University of Helsinki, CSC and SGO/University of Oulu, funded under the Finnish Academy special programme "EuroHPC initiative, quantum computing and high-performance computing" for the period 2022–2024.
SGO/University of Oulu team aims to develop new advanced high-power computing solutions for the EISCAT_3D radar to enable more accurate monitoring of the polar ionosphere and its dynamical coupling to the atmosphere. Moreover, the new EISCAT_3D methodologies will enable a better 1-point ground-truth validation approach for various satellite missions, as well as evermore comprehensive theoretical models, both aiming to measure/simulate the global dynamical coupling between the space weather and the atmosphere.
For more information on the project, please contact: Asst Prof Antti Kero (antti -dot- kero -at- oulu -at- fi).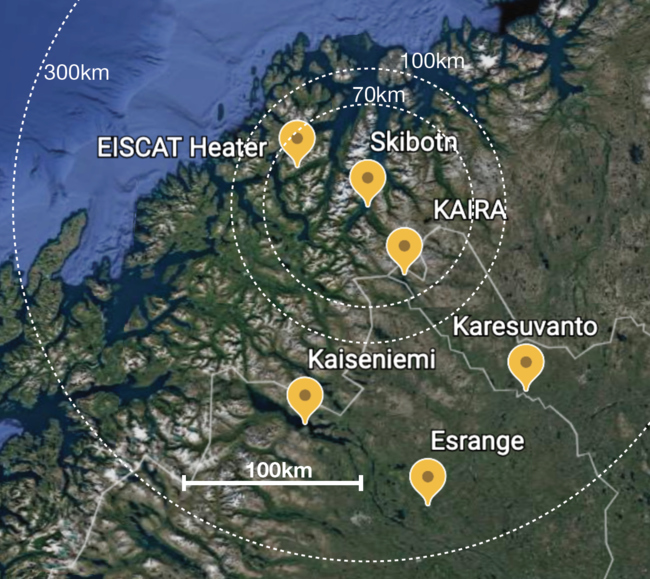 EISCAT_3D (Skibotn, Karesuvanto and Kaiseniemi stations) and it measurement volume at different altitudes (dashed lines). HISSA project will investigate possibilities of using the KAIRA station as an EISCAT_3D receiver.