Venue
The 19th International EISCAT Symposium and the 46th Annual European Meeting on Atmospheric Studies by Optical Methods will be jointly held at the Linnanmaa Campus of the University of Oulu in the city of Oulu, Finland. All registered participants will have full access to both meetings, which will have joint as well as separate (parallel) sessions.
We will have the university's most modern lecture space available for the main sessions of the meeting. The lecture hall is a terraced space with individual chairs and many tables, so that everyone can reach their seat or leave the room at any time without others needing to get up.
Comprehensive multi-screen projectors and displays are available for presenters and session chairs.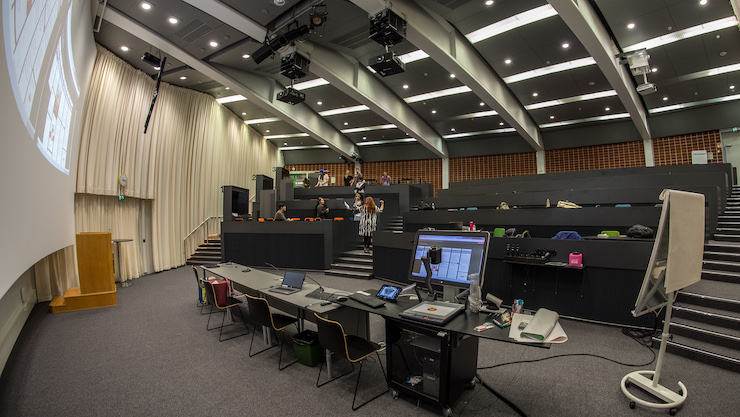 More information on the location (map) will be available soon.
Accommodation
Please make reservations via your usual channels, we do not have a specific meeting hotel. We recommend to book a hotel in the centre of Oulu. See below for transport to the university. Please make your reservation in good time! Welcome!
Getting to the University Campus
There are plenty of busses from the centre of Oulu to the university campus. We will provide you with the line numbers, schedules, and most important departure points approximately a week before the meeting when the autumn schedules have been published after the start of school. Your registration fee includes a bus pass for the duration of the meeting, which allows you to move freely between the centre and the campus, and around the centre. Note that the bus to the airport will require extra payment! Note further, for your initial trip to the registration desk, you will need to buy a ticket from the driver. Note that the busses do not accept cards, cash payment only!