Sodankylä Geophysical Observatory
Geophysical measurements and research since 1914
SGO, located 120 km north of the Arctic Circle in Finland, is an independent department of the University of Oulu.
Address:
Sodankylä Geophysical Observatory
Tähteläntie 62
Phone:
Staff list
FIN-99600 Sodankylä
FINLAND
e-mail:
Contact us
Co-ordinates:
Geographic:
67° 22' N, 26° 38' E, 180 m
Geomagnetic*:
64.1°, 119.2°, -23.2°, dip = 80.0°
Corrected geomagnetic*:
64.1°, 106.7°, L=5.25
* IGRF-11 model for 2010
More information on the observatory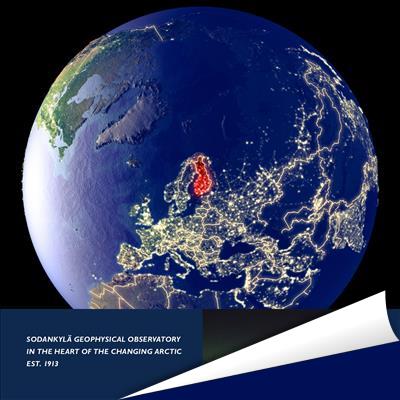 Ukraine
Due to the attack by Russia on Ukraine, SGO does not answer requests for data or technical information from Russia or Belarus for the time being.
Also scientific collaboration and visits are suspended.
This is in accordance with the guidelines of the Finnish Ministry of Education and Culture.
News
01.12.2023
ESA selects limb-sounder mission CAIRT for Phase A development
See more
03.11.2023
The results of a doctoral student's magnetic climate published in Nature's Scientific Reports journal
See more
10.-12.1.2024
XV Observatory Days 2024
See more
1.9.2023
110th anniversary of the Sodankylä Geophysical Observatory
See more
15.8.2023
Yhteinen terveytemme II työpaja
See more


All news
More coming events
SGO Blog