EISCAT Radar School 2010
30th August - 4th September 2010
Sodankylä Geophysical Observatory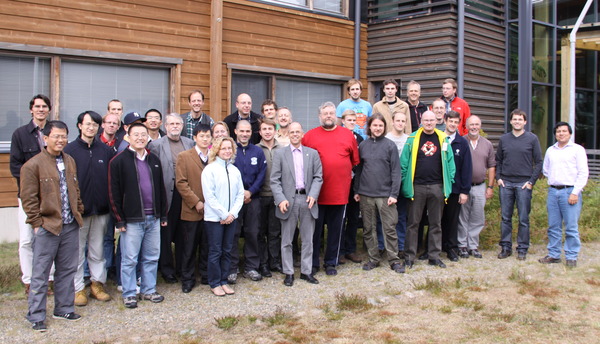 (full size, 4017x2301, 3.2MB)
In the near future the EISCAT Scientific Association will face a major instrumental upgrade with the ESFRI Roadmap project "EISCAT_3D: A European Three-Dimensional Imaging Radar for Atmospheric and Geospace Research."
EISCAT, in co-operation with the Sodankylä Geophysical Observatory, ran a training course for new users of the EISCAT radars, from 30th August to 4th September, 2010 (Monday to Saturday). The training course was held at Sodankylä, where one of the EISCAT UHF remote sites is located.
The course covered all essential aspects of the current EISCAT systems, including the science programme. An overview of the existing hardware and software was provided and future plans were discussed, with a strong emphasis on EISCAT_3D. Tips on analysing and working with the data were given and an dedicated radar experiment for the school was run on the EISCAT Svalbard Radar.
The lecturers comprised members of the EISCAT staff and experienced scientists from the user community. Speakers were (in alphabetical order): Anita Aikio, U Oulu; Paul Bernhardt, NRL; Ingemar Häggström, EISCAT HQ; Antti Kero, SGO; Markku Lehtinen, SGO; Jussi Markkanen, EISCAT Sodankylä; Ian McCrea, RAL; Derek McKay-Bukowski, RAL; Tuomo Nygrén, U Oulu; Mike Rietveld, EISCAT Tromsø; Anja Strømme, SRI International; Esa Turunen, EISCAT HQ; Thomas Ulich, SGO; Ilkka Virtanen, U Oulu; Assar Westman, EISCAT HQ.
The 2010 school had altogether 40 participants, of which 15 were expert instructors and 25 were students and scientists, who wanted to widen their knowledge in incoherent scatter radar. Of all participants, 14 came from Finland, 5 from Great Britain, 4 from the USA, 4 from Sweden, 4 from China, 3 from Russia, 2 from Germany, and one each from Norway, Czech Republic, Peru and Belgium.
Organiser:
Dr Thomas Ulich
Sodankylä Geophysical Observatory
Tähteläntie 62
FI-99600 Sodankylä
Finland
GSM: +358 40 5490403
RS2010 at sgo.fi